A Threesome with a Delivery Guy
Mar 04,2022 | SexAngelbaby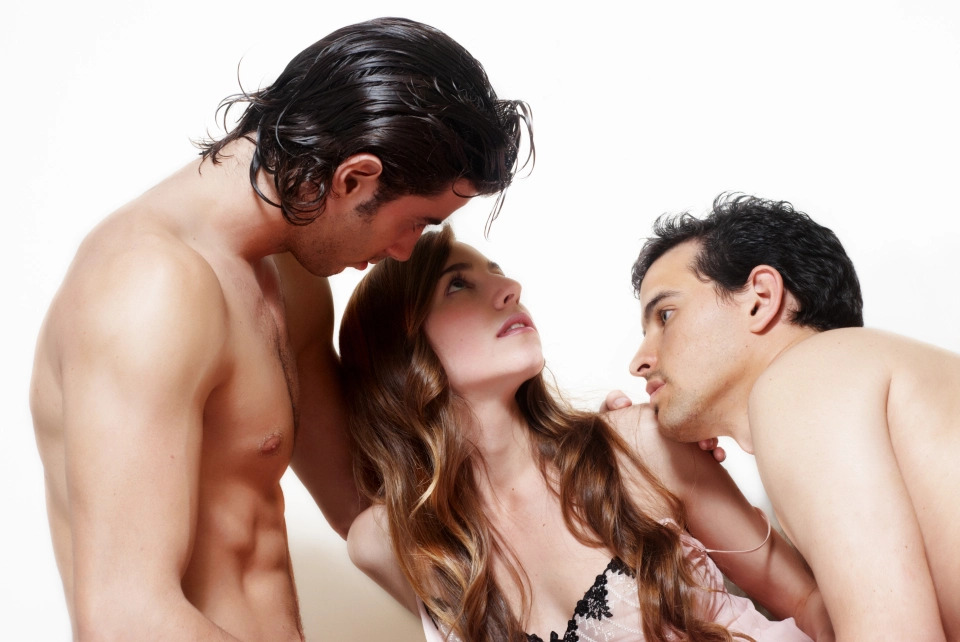 I am Donna. My husband David and I live in a small quiet city near a river. The nature around her house is beautiful. Sometimes She can hear the birds sing on the balcony, which makes her relax.
David is a businessman, and he always travels a lot. When he is out of town, we always have phone sex, and I always use a rabbit vibrator on my pussy to reach orgasm, and he always likes jerking off in front of his cam, which I feel most satisfied all the time when he does something like that.
Due to David's business nature, I always have to receive many packages at my home. As I said, I am a horny wife, and I love to be topless or nude in my house when I'm alone. One day, as usual, a delivery man came to my house. As a horny wife, I love to have sex with other guys, especially with my husband watching.
One day, as David went out to another town, I felt bored and had some sexual fantasies on my bed. I always liked muscular and handsome men. Some Collywood movie stars like Chris Hamsworth, Tommy Cruise, Kanu Reeves are always my favorite sexual fantasies subjects. Usually, they will not come one by one but all in one place. You can say it's a foursome. I usually prepare a hot bath that faces the sunset, and I start to have fantasy with them and play with water-proof vibrators on my pussy.
My nipples almost immediately go hard, and my pussy goes wet as they begin kissing my lips, touching my breast, licking my nipples and pussy. The group sex is incredible. One of them begins using their fingers, diving deep, stroking my pussy, and licking the clit at the same time, and I can't stop moaning. The sound is so loud that nearby birds will hear it and fly away. After a few moments, my body starts to shake and have an orgasm!
The pussy juice is so much that it mixes with the water and becomes milky! You can call me a squirt queen, and it helps me relax during high-stress days.
Fantasy with Tommy Cruise
One day, as usual, David had to go to work. When I was preparing lunch at home, a phone rang in, and the delivery guy said a package would arrive at around three to four in the afternoon. The voice I heard sounded like Tom Cruise, and I immediately couldn't stop fantasizing that he was hugging me and started to put his tongue all over my body. I started humming, and I felt liquid dripping from my pussy, and I couldn't stop putting my fingers on the lips between the thighs and started rubbing. As I rubbed, I felt so hot that I took my clothes off and touched my breasts. I couldn't stop moaning. I finally used a dildo to finish things off!
Delivery Guy Arrived
Around three in the afternoon, I saw a truck driving towards my house, and it had "UPS" written on it. I knew it was the package I expected. I immediately dressed in a red deep-v high cut sexy dress with wide legs opening. Also, I put my sexiest lipsticks on and tried to seduce this Tommy Cruise voice-like guy.
Ding-dong. The bell rang. As I opened the door, I was surprised. Who stood in front of me was indeed Tommy Cruise! How was it possible? Was I dreaming? As he introduced himself, the maze became clear.
Tommy, "Hello there. Are you Ms. Donna Jane?"
"Yes, I said."
"I'm Tommy Cruise from UPS, and here is your package."
"Are you the Tommy who shoots the films in Hollywood? I'm one of your big fans. I watched all the movies you acted on." I said.
"Yes, Ms. Jane. Because of the current pandemic, I feel I should do something to bring happiness to our society, so I decided to become a truck driver." He continued.
"It's nice meeting with you, Tommy. Want to come inside and have a cup of coffee?" I asked.
"Hmm, well, I've still got some packages to deliver." As he spoke, I could see his eyes staring at my breasts and legs. I knew he somewhat liked my body, so I leaned it forward and let him see my nice breasts without bras and flirt with him with my fingers.
Later, I said, "You can come to have a cup of coffee after you finish. My husband won't be here till late night." He seemed to understand what I was saying, and we exchanged my phone number together.
I had a threesome with a Collywood Star
My husband, David, has an open mind. He had been seeking a threesome so long that he hadn't known he would have a threesome with a Collywood star. I thought he would be shocked to see that.
It was eight at night. Tommy finally called me up, and I said I had been waiting to see him tonight with my whole body naked, and indeed, I'd been warming up for the horse-riding actions either from behind or from the top. They would give me ultra orgasms if things went right.
On the other hand, my husband, David, was coming home, and I'd told him he would be expecting a threesome this night.
Fifteen minutes later, a black Maserati race car drove in the driveway of Donna's house. The engine stopped, and the headlamp lights were out. A man in a black suit got out of his car. He was wearing a pair of sunglasses and a black hat. His suit is slim-fit cut, and everyone nearby could see his entire body. The muscle lines are so surging as if they are about to break out from the clothes he wore.
Tommy Cruise was a handsome man with a perfect body build who made every woman scream.
"Hey Donna, you look perfect!" Tommy said.
"Thank you, and I have some surprises for you today, Tommy. Here is my hubby, David." Donna said.
Tommy looked surprised and said, "I don't know you have a husband, and I thought it was just me and you tonight."
"It's a surprise, Tommy. My hubby always wants an amazing fantasy. But don't worry, the subject is me." Donna said with a smile.
"Well, I don't expect that at all. I did try something special when I was young, but not after I become a movie star that everyone knows me, and It's kinda life that has little privacy, you know." Tommy continued.
"This time, you'll expect different that help you to relax, and I promised no one will film you as there is nobody around," Donna said.
Donna lives in an isolated environment where the closest neighbors live half a mile away from their house, so it is pretty safe for Tommy to untie his lust and do something extraordinary, like a threesome with somebody's wife.
"Let's have a couple of drinks first," Donna said.
"Sounds good. Do you have Martini?" Tommy asked.
"Hmm, I can make you some unique drink. Like the juice from my pussy, you wanna try?"
As Donna finished the sentence, she began taking off her underpants and moved her pussy towards Tommy's mouth with her legs opened.
"Oh. That's hot."
And he started to lick her clit and finger her pussy. Donna couldn't help moaning, and her pussy became very wet. Tommy then moved his body to a "69" position and said, "You wanna have a drink as well?"
Donna removed Tommy's pants and started to suck his cock. As they were sucking each other, David finally came back. As he moved closer to his room, he heard the noise and immediately knew Tommy and his wife were having some fun. He immediately undressed and walked into his room.
"May I join you guys?" David asked.
Donna noticed that, and she moved her body towards David, and he used his finger fucking his wife's pussy. He also used his thumb to rub her clit as he was doing that. The pussy was so wet that Donna's juice came out like a fall.
After a moment, Tommy's cock was very hard. He moved to Donna's back and slid it into Donna's pussy. She moaned very loud immediately. David didn't stop there, and he moved to Donna's mouth for an oral session.
A few minutes passed. Tommy stroked so hard, and he cum inside Donna's pussy with a full load of sperm. David relayed with the stroke in the pussy and cum outside the mouth.
The actions were so intense, and they lay down very tired and with a big smile.
"Cut!" Someone said it very loudly.
"It was a great scene, and I like it." The voice continued.
A prop master came out and asked several people to pack Tommy, Donna, and David into boxes.
"I think this clip will be viral on Fuckhub." A male voice said.
"Yeah. I agree with you. Three sex dolls fucked each other, should be very funny for people who like this." Another male voice said.
"Where do you find this, Tommy? He really looks like the movie star!" The first male voice said.
The first male voice is the producer of this movie, Gabriel, and the second voice belongs to the prop master, Mario. They had been longing for this sex doll movie, hoping that it would go viral one day and become famous!
To be continued.
Comment